Andrew Just
Board Member
Andrew is Co-founder and architect-extraordinaire. Andrew has been involved in a number of iconic projects in Christchurch including temporary art gallery and studio project Artbox, the structural magnificence that are the Arcades and of course the Gap Filler projects. Never short of a clever idea or kind word, Andrew is now a much respected board member and occasional consultancy recruit. He enjoys tramping and has raced tuk tuk's across India. He also gives (and demands) the best hugs!
By Rachael
Lance Edmonds
Treasurer
Lance is the Treasurer for the Trust Board. As an Associate for Kendons Chartered Accountants, Lance contributes his specialist expertise when it comes to trusts, business planning and performance, budgeting and cash flow forecasting and much more! Known for his easy-going manner, he's regularly called upon for advice and has a knack for explaining financial things in layman's terms that can be understood by all.
By Lydia
Martin Trusttum
Board Member
The elder statesman of our board, Martin Trusttum balances his senior status with a vibrant energy for things creative and urban. Martin started his working journey in music before switching to fashion, where he ran a business for fifteen years followed by teaching at CPIT.  Teaching morphed into a project-oriented role, putting on events and facilitating relationships into and out of CPIT. Recently this included initiating the Arts Hub within CPIT and leading Artbox. Martin brings with him a great combination of organisational experience, creative direction, people skills and business understanding, joined with a quick laugh, warmth and a good hug.
By Andrew
Ciaran Fox
Chairperson
Ciaran is the Chairperson of our Board. Ciaran is also a Mental Health Promoter with the Mental Health Foundation and has given us much valuable information and advice around community wellbeing and is always looking out for the wellbeing of our staff and fellow Board Members. Ciaran is an artist of words and has been Master of Ceremonies at many of our community events.  He has a warmth and caring about him that is a joy to be around.
Gap Filler team clockwise from bottom left: Ryan Reynolds, Rachael Welfare, Bec May, Simon Gurnsey, Anita Parris, Rosaria Ferguson, Sally Airey and Richard Barnacle. Unable to be present were Coralie Winn, Hannah Airey and Trent Hiles. Photo: John Collie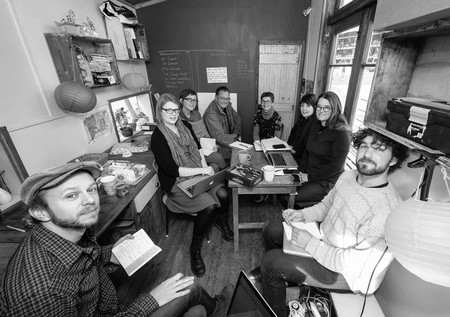 Rachael Welfare
Co-Director (Operations)
Rachael has ventured forth from curating the old to helping fill gaps in the new through her role as Operations Director. Rachel brings to the team a combination of creative skills and passion from her Masters in Museum and Heritage Studies and a love for baking and travel. Rachel has one setting – greatness. She has amazing skills with organising and when not doing this for GF, she is completing renovations on her home and searching for her doggy companion (a Great Dane, of course!).
By Catrina
Ryan Reynolds
Co-director (Strategy)
Dr Ryan Reynolds is one of the co-founders of the Gap Filler Trust and Strategic Director, this means Ryan has the difficult task of reining in wild discussions (while injecting some of the whackiest ideas himself). As a consultant he travels widely, speaking to councils, universities and other organisations about adaptive urbanism. He has endless enthusiasm and ideas and has worked relentlessly since the conception of Gap Filler, donating hundreds and hundreds of hours to the initiative.
By Martin 
Coralie Winn
On Maternity Leave
Gap Filler co-founder, Coralie Winn assists the Gap Filler team in the creative activation of vacant sites around the city. Previously Gap Filler's Director for 4.5 years before having her first child, she is now responsible for how Gap Filler communicates outwardly across all aspects of the organisation.  She is relationship-focused, creative and determined. Gap Filler's success can be attributed to Coralie's ability to engage and involve people from across the community in collaborative projects. She also enjoys dancing like a crazy person in public at the Dance-O-Mat.
By Trent
Correna Davies
Project Activator
Correna Davies is our go to project activator / event organiser extraordinaire with a huge amount of experience in events of all sizes, from Iron Maiden stadium gigs to kids discos at the Dance-O-mat (including the wearing of an animal onesie!)  Chief Gap Filler HQ sorter-outerer with a system for everything, highly skilled at putting objects and people in the perfect place at the right time! Powered by extra strong fruit teas and a fantastically eclectic taste in music, Correna makes cool stuff happen and we look forward to many more projects and events with her at the helm.
By Damian
Damian Doyle
Project Developer
As a keen skater, snowboarder and surfer Damian Doyle prefers to do everything Standing Sideways, so this is how you'll find him whether he's building a skate ramp, making a film, drinking tea or turning a Japanese highway into a terrain park. With his lateral thinking (and position), boundless energy, ideas and ability to make things happen, Damian is a valuable recent addition to the team.
By Rich
Simon Gurnsey
Project Delivery Manager
Simon is the man with the means, creating new ways to do anything and getting it done. Simon is the owner of The Commons favourite four-legged friend Mr Brock! Brokkie has brought joy to hundreds with an endless supply of energy for playing fetch. Simon is also a Sociometrist, creatively working with the relationships between people and groups of people.
Virginia Kennard
Office Manager
Virginia shuffled her way down to Christchurch via Wellington to work Gap Filler, after doing some postgrad study in the UK. She will be wrangling admin, invoices, and staff as the Office Manager. Virginia is a freelance performance artist and publicist, working in administration and accounts to keep the bills paid! She's really stoked to be working in the DIY, getting stuck in environment of Gap Filler and not at all sorry to be leaving behind sterile corporate offices. Virginia is pretty good at organising people and stuff, math, talking about intersectional feminism and drinking gin neat.
Her favourite art story to date is Shirley Manson from Garbage stopping by her installation The Lady Garden. Shirley chatted at her Wellington Town Hall gig about the naked ladies being body-painted in a Cuba Street shop window…
Elisha Blogg
Project Developer
Elisha has been working at Gap Filler since 2018. As Project Developer, she gets to be a part of the process from planning to execution, poking her nose in along the way on a number of exciting projects happening around the place. After 13 years living away from Christchurch, exploring parts of the globe, she has decided it was a good time to move back and play her part in the creation and development of this ever changing city. That's where Gap Filler come into play: she feels incredibly lucky to be working alongside the inspirational, creative crew here at GF where anything is possible.
Latest life highlight – "clocking 25,000km's in 5 months travelling around Canada and the States living life out the back of our van with my best buddy in 2015. We survived!"
Helen Holyoak
Project Activator
Donate to Gap Filler
... and help make more projects happen on Gaps in Christchuch!